Archive - Event 2010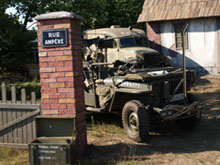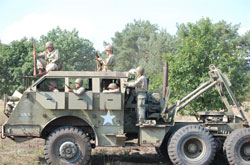 Order n. 1/2010
Dear fans of historical military mechanics and military history.
The year 2009 was the breakthrough from the point of view of meetings of enthusiasts in historical military mechanics and military history. With the support of the Slovak Republic and Ministry of Defence and under auspices of Minister of Defence Ing. J. Paska it was possible to organise the first event of the Slovenske piesky in a unique sand field in the area of Zahorie in Slovakia. We think, that it has immediately become an event of this kind with a European importance.
In fact, all of those who attended the event could enjoy the viewing of almost 150 combat vehicles of all weight categories from 5 countries, the camps of different historical military clubs, demonstrations of fighting operations from World War II. and modern operations of special units.
This all became unforgettable for almost 3,000 spectators, who attended the first year of Slovenske piesky. Therefore, accept the invitation for second year of Slovenske piesky, which is held from 11th – 15th August 2010.
You can have the possibility to participate in the event and present your mechanics, enjoy the ride in the sand dunes or struggling to manoeuvre in a unique field of Zahorie. Also, you can actively participate in the fight demonstrations or present a fight camp unit, which you belong to.
Our invitation dedicated to all spectators – come and enjoy this unforgettable show directly in the company of legendary Jeeps Willys, vehicles Dodge, GMC, Hafttrack, Tatra, tank T-34, Tiger, T-72 Modena, Pion, Zuzana and many others!
The importance of the whole event will be enhanced also by the fact, that 2nd year of Slovenske piesky will be organized in the honour of 120th birth anniversary of army
general Rudolf Viest
, who actively participated in building the Czechoslovak foreign Army in France and Great Britain during the World War II.
Once again, we kindly invite you – make a note of the event already today. We are preparing for you an amazing experience!
Na zdar!
Organizing Committee of the Slovenske piesky
Documents

Poster Slovenské piesky 2010
| ZIP | Dokumment | 27.1.2010 | 202 kB

oster Slovenské piesky 2010 - OLD STYLE
| ZIP | Dokumment | 2.12.2009 | 137 kB

Rudolf Viest - Sheet information
| JPG | Bild | 29.1.2010 | 418 kB
Photos and Videos
Vehicles
Tracked vehicles


Armored wheeled vehicles

Trucks

Light vehicles

Motorbikes

Tank T 34
VT 55
Tank T 55
OT 810
OT 90
OT 62 R2M
AT-S
ATS-59G
T 72
BVP 1
VT 55
BVP 1
Halftrack IHC
OT 90
Svatava
Gvozdik
Burka 3
PION
Tank T 34
Pram
Burka 3
OT 810
MT 72
M 4
BVP VT
T 72
BVP DTP
Tank T 34
BVP 1
Burka 3
Tank T 34
OT 64
BTR 60
BRDM 2 CH
BRDM 2
T 815 UP2
Zuzana
Dana
OT 64
BRDM PTRS
BTR 60
BRDM 2
Pacific M26
BRDM 2
GMC CCKW 353
T 805 Třinec
Ward la France
Diamond T
Praga RN
Ford Canada
Reo
T 805 Třinec
T 805 valník
T 138 4x4
T 148 nt
T 813 8x8
V3S
V3S APN
T 138 4x4
ZIL 131
T 813 8x8
ZIL 131
ZIL 131 N
Praga RN
AM General
Bedford
T 813 8x8
T 111 NR
ZIL 131 N
Tatra 805
Jeep
Dodge WC 54
Ford Mutt
Dodge WC 63
Landrover
Dodge WC 52
Jeep
Dodge M43
Jeep
UAZ 469
GAZ 69
VW Kubelwag.
GAZ 66
Landrover
UAZ 469
Landrover
VW Jeep
VW Schwimm.
GAZ 69
VW Kubelwag.
Jeep
GAZ
Volvo
Kraka
Pinzgauer
Volvo
Jeep
Landrover
VW
GAZ 69
Jeep
VW
BMW
URAL
BMW
NV 750
Dnepr
NV 750